Welcome at foldingantennas.com
Makers of the unique collapsible HF multiband beam antenna.
The story... Every ambitious ham has experienced this:
When operating portable, on holiday or from a weekend qth, on a fieldday or DXpedition, simple wire antennas are always a compromise. You get lost in the pileup or QRM, and you can't blank out interference. Especially when running low power or participating a contest, a beam antenna is always helpful.

Over the years many light weight wire beams have been developed for this purpose, with spreaders made from fiberglass. Performance wise these antennas are on par with conventional beams. In the U.S., UK, Australia, NZ etc. the "Hexbeam" has gained great success, and later Steve Hunt G3TXQ did further research and came up with the optimized "broadband" design. Many broadband hexbeams have been home made and sold by professional builders since. The small turn radius, the simple "wire only" multiband concept, the low weight, wind load and visibility profile has convinced a vast amount of hams, I also use a homemade 5 band broadband hex at my QTH. Further information:

G3TXQ broadband hex website
Yahoo hex beam group
The drawback:
All these wire beams have to be assembled on site, which means to join the spreader sections and mount them on the hub, put on the support cords, mount all the wires and connect them electrically. This is acceptable to do once for a permanent installation, but when operating sporadically, you lose a lot of time for assembling and disassembling the antenna again and again, let alone forgotten tools or searching for lost bits in the sand or grass. As a consequence, those simple dipoles, verticals and whips keep being used, and successful DXing remains a dream.
The solution: The folding beam!
The all new folding beam antenna is based on G3TXQ's proven design. The big difference is the shape, which is no more the characteristic "upside down umbrella" style. It is
flat
due to the spreaders being straight now and no more bent upwards. This eliminates major bending forces and the spreaders can be thinner and lighter. The spreaders are made of 3 sections held together with locking swivel joints, and they are connected to the hub by another swivel joint, making the antenna collapsible to only 1,15 m (45") total length with wires and support cords staying attached. A single person can erect or collapse the folding beam antenna in 10 minutes maximum time without the use of any tools.
The antenna is available as a fully portable hexbeam or for permanent installation. There are further options and accessories, check out the design and shop pages!
UNPACK - SET UP - UNFOLD - QRV!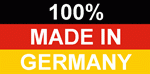 Our products are designed, tested
and produced entirely in Germany.


All prices in Euro incl. 19% VAT, unless otherwise specified.